If you enjoy art and the time has come to relocate your home, you will need to take extra care of the significant pieces that give your house character. Some individuals place as much importance on protecting priceless items from destruction as they do on relocating all the other stuff.
All of your paintings, prints, statues and mirrors can be packed. For larger, heavy items you may need a wooden crate, as you'll see below. The smaller items can be packed in China cartons. They have two layers of cardboard to keep your artwork safe.
Protecting the object and cushioning the box it will be placed in are the two fundamental packaging steps for artwork.
Artwork Packing Checklist
Your framed pictures and works of art will require additional protection before going onto the moving truck in order to transfer them securely to your new house. We will appropriately pack paintings and framed art with the additional protection they require using the necessary materials. You'll need the following materials to complete the task properly.
crates made of wood or moving boxes
a customized moving box or a flat picture box
Corner protectors made of cardboard or styrofoam
Packing peanuts, bubble wrap, and other protective materials
Polythene wrap
Artist's tape
Markers and labelling tools
The stuff you require will vary according to your art piece(s) and moving style, but the aforementioned materials will help you get started. Read on for our top packing advice for all of your framed and hanging art.
Moving Framed Artwork and Prints
Your paintings and prints will be safer if you buy a flat picture box. Although more expensive, they are worthwhile. Try to pick one that is 3 to 4 inches bigger on each side than your piece of art. If it's bigger, you'll need to use additional padding materials; if it's smaller, there won't be room for padding and you run the danger of damage.
Don't Pack Multiple Artworks In One Box
Give each component its own package if at all feasible. Smaller photo frames that are the same size and are properly protected could work, but packing framed art pieces together usually results in damage to the other pieces. Fragile pieces of wall art and framed artwork can come in a variety of sizes, and one bump in the moving truck can completely change the outcome!
Packing Sculptures
Protection
The difficulty with any sculpture, regardless of size, is that any protruding or susceptible areas. Consider a sculpture of a swan, for instance, whose head and neck can easily break off.
You must first wrap the sculpture in cling wrap to safeguard the finish before you can correct this. To give stability, use smaller pieces and fill in all the crevices and gaps.
After that, you will roll up pieces of bubble wrap and wrap them around the sculpture's weak points.
Use extra bubble wrap to completely cover the sculpture once you've strengthened any delicate parts. You should have a spherical or egg form at the end, which you may put within a box and support with padding.
Larger Sculptures
A sculpture that is several feet tall and weighs as much as it does will provide a greater obstacle.
You may decide how to manage this and whether you need a wooden crate or a cardboard box by estimating the item's estimated weight. When moving, the average single-walled box can support up to 40 pounds, so if your weight is more than that, you'll need a wood crate.
Many contemporary artworks are hollow and light in weight because they are created using plaster moulds. If that's the case, you can use a single, sizable cardboard box with enough cushioning, but you must be certain of its durability throughout transport.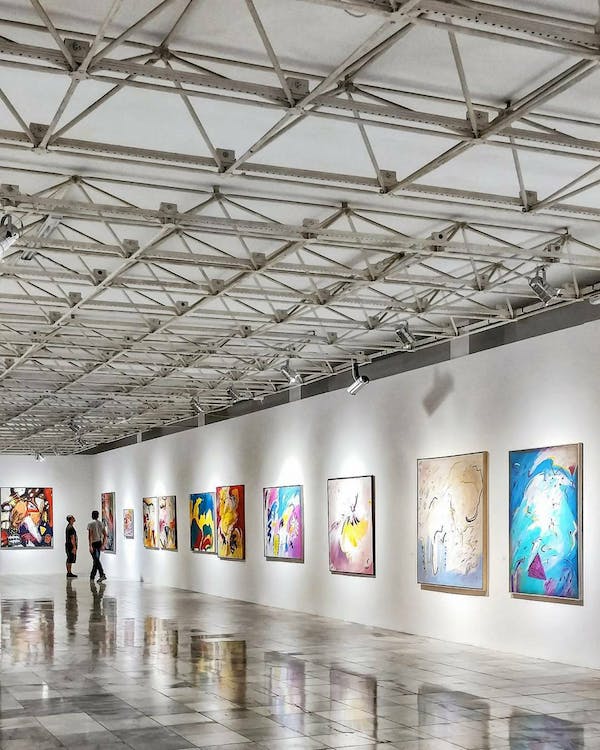 Utilizing wood boxes is the most secure and durable way to handle bulky objects. These are accessible both online and via shipping suppliers.
In addition to being a durable option for delivering priceless things, wood crates stand out sharply among the sea of cardboard boxes. They are therefore less likely to be damaged, dropped, or overturned. They will also have a far higher chance of surviving the relocation procedure if they are handled improperly.
Step by step guide on packing your art pieces
– When packing framed art, bubble wrap or padding is essential to prevent damage.
– Canvas paintings can be rolled up and transported in tubes, but make sure they're well secured so they don't unroll and get damaged.
– Fine art pieces should be packed in sturdy boxes with plenty of cushioning material.
– Artwork boxes or moving boxes lined with parchment paper are ideal for protecting delicate items.
– Use packing tape to secure all the corners and edges of the box, and reinforce any areas that seem weak.
– Cardboard corner protectors can be used to further secure and stabilize the box.
– If you're renting a moving truck, make sure your artwork is packed securely and won't shift around during transport.
– Once you arrive at your destination, unpack your art carefully and immediately hang it up or put it in its designated spot. This will help prevent any accidental damage.
With these tips in mind, you can rest assured that your valuable artwork will arrive safely at its new home.