Relocating your office
If you're relocating your office or business, there are many things to consider for your move.
Items such as office supplies, expensive office equipment, important paperwork, desks and furniture, and office decorations along with how to pack them are an important part of the move.
We have useful tips for you to pack for your move efficiently. If you need help planning your office move, you can check out our more comprehensive article here.
1) Prepare packing materials
Packing materials are crucial for a successful move.
You will need the right packing materials such as trash bags, cardboard boxes, furniture pads, stretch wrap, sealable plastic bags, moving blankets, zip ties, bubble wrap, and packing paper to ensure all the packing is done properly and efficiently.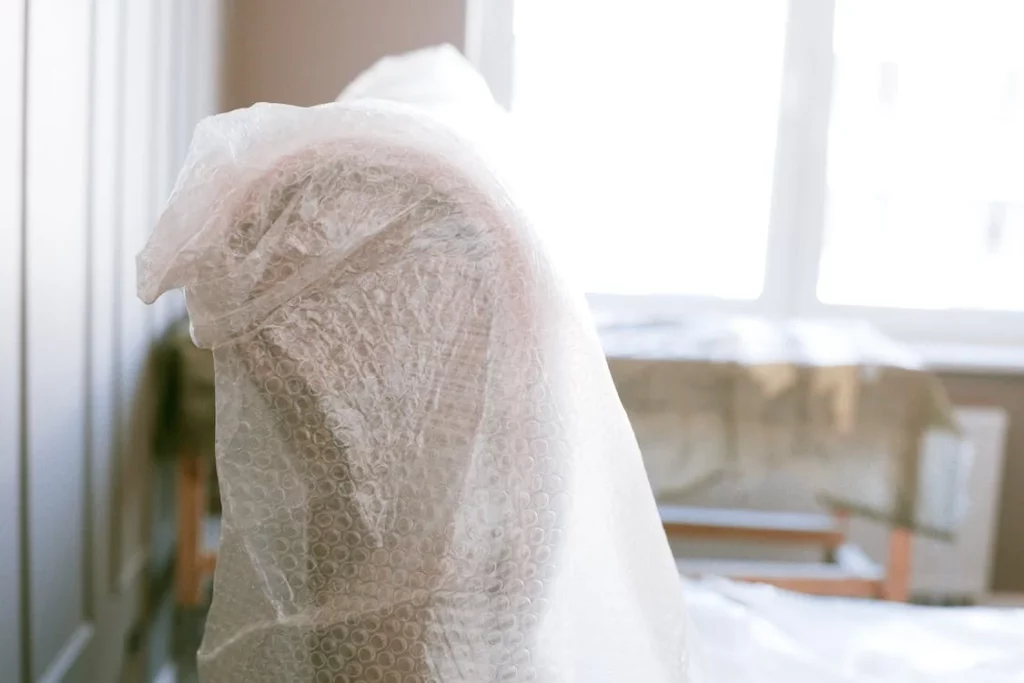 2) Do a thorough purge
When you are planning an office move, you may find your files, paperwork and other documents that are scattered around your desk or drawers.
You need to go through them individually and see what you can get rid of.
Here are some steps on how to organize office desks, drawers or cubicles:
a) Start with the file cabinets
You can begin decluttering, emptying, shredding and throwing away unwanted files and documents to lighten the moving load.
Put them in a box immediately.
b) Clean your office desks
Remove all the desktops, papers, and other items from your desk and collect all important documents inside a plastic bag.
You can discard the outdated paperwork that you won't use after the move.
If your company has a protocol, follow the protocol for disposing of old documents.
If there isn't, then you can just start shredding and throwing them in a trash bag.
Keep sensitive documents and important data with you and transport them by yourself to your new office.
c) Empty your drawers
Go through each drawer and discard old junk such as dried-up pens, mostly filled notepads, bent and useless paperclips, and other mostly useless items.
If you have any books that you would like to move with you to your new office, sort out the books into categories and pack them separately in a box according to their sizes.
Always remember to keep the spine against the box wall so that the open part is facing you to ensure the binding won't be damaged.
3) Pack your personal items
Once you declutter your office and decide what items you want to bring with you to your new office, you can begin packing small office furniture and other personal items for moving.
a) Pack breakables with packing paper and bubble wrap.
This includes items such as photo frames, coffee cups, trophies, awards, paintings etc.
Immediately place them in cardboard boxes with padding materials to ensure they do not break during the move.
If you have expensive items such as valuable artwork or vases and other display furniture, remember to purchase insurance to ensure you get compensated if there are losses or damages to the item.
After packing your personal belongings and office décor, the next step will be to prepare and pack office equipment and electronics.
4) Begin Packing Electronic devices and Electronic equipment
Computers, printers, office phones, wireless routers, printers and fax machines are usually the most valuable items in your office.
So, you'll want to make sure these items are properly protected from any damage during the office move.
Before you begin packing, ensure you do the following to save precious time during the day of your move:
a) Back up all important data into an external hard drive or cloud service
b) Use zip ties to keep wires and cables separated and organized
c) Pack wires with the appropriate equipment in the same boxes
d) Use plenty of padding materials when packing these devices or use extra sturdy good quality boxes to protect your devices
e) Disconnect all wires from computers before packing
f) Remember to add a final layer of padding materials on top of the boxes as well to ensure full protection of the devices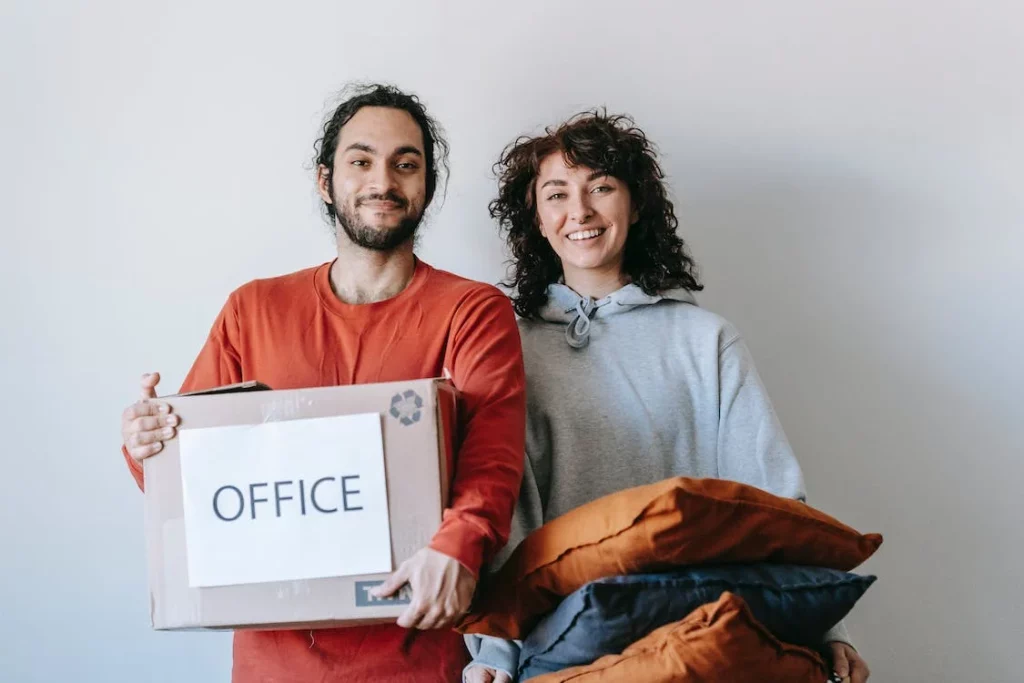 Once you pack office equipment and electronics thoroughly and placed them into moving boxes, you can close the box and seal it with a few layers of durable packing tape (make sure you gently shake the box before sealing it to ensure you have added enough padding inside).
5) Packing office furniture (Office desk, office chair or cabinets, cubicles)
Now that your office is empty and organized, the next step will be to pack office furniture and cubicles.
Here are some steps on how to pack your cubicle and office furniture when moving:
a) how to pack your office desk and office chairs
Start by disassembling the office desk
Check assembly instructions before disassembling. It is better to disassemble the desk into as many parts as possible. Unscrew and remove all the drawers, racks, and other parts of the office desk.
Make sure to keep all nuts, screws, and bolts in a resealable bag to avoid losing them.
Wrap each piece of the office desk with furniture pads to protect it against any kind of damage.
Wrap each desk drawer carefully in moving blankets and secure it with the packing tape.
Make sure the packing tape doesn't touch any part of the office furniture as it could leave marks.
b) How to pack filing cabinets or drawers
It is best to hire a moving company that provides professional assistance for this part of the move.
However, if you are part of a small company, there's a chance you may need to handle some of the more significant packing aspects.
You can start by ensuring all cabinet drawers are locked and bubble wrap is placed to protect all the shelves and cabinets. Secure with plenty of packing tape.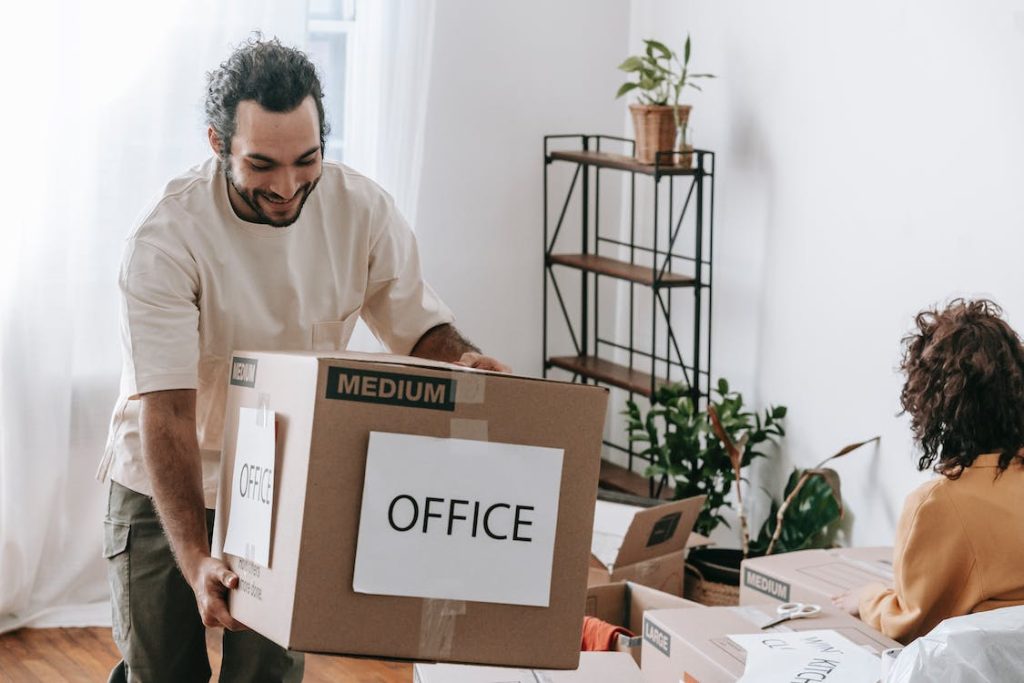 If the cabinet does not have a lock but has opening doors, you can opt for a string or stretch wrap to tie around or wrap around the entire cabinet before the move.
After packing cabinets, place them into moving boxes and mark each box with a brief description of its contents and the desk or department with which it belongs in your new office.
If the box contents are confidential, that should also be indicated on the labeling.
c) How to pack cubicles
Packing and moving cubicles can create a problem unless you have the right plan of action.
So, when you are packing cubicles for a move, make sure the cubicle walls should be disassembled and wrapped in protective padding.
This helps to prevent walls from falling apart and causing damage or injuries.
It is important to hire the right moving company for your office relocation as the right company can help plan and perform a stress-free move for you and your company.